This list Contains Top Eleven underwater hotels and Spas under the cool water in the world. These submarines hotels allow you to sleep in the depths.
This time, we'll look at more hotels under cool water that exist or are under development.
The truth is that we would also make a list of hotels in space, but unfortunately, we have not reached that point, so for the moment we will review the depths before the universe. Let's take a look:
[quads id="4″]
1
The Water Discus Underwater Hotel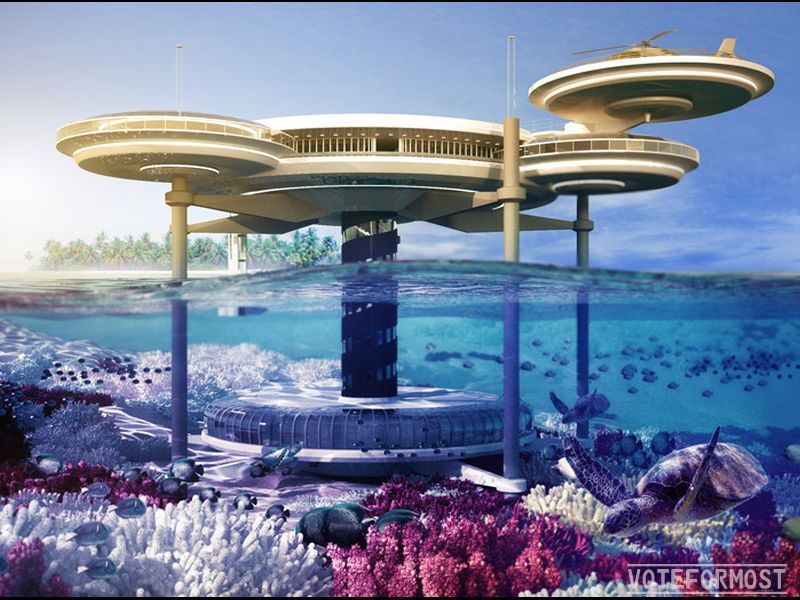 The most extraordinary and extravagantly appearance of the list is this concept designed by and Deep Ocean Technology. It may be only in the design phase but is already scheduled to be built in two locations: one in Dubai and one in the coast of the Maldives. On earth, above its giant floating discs, you can see a restaurant, a spa, a huge swimming pool and a recreation area. And up above, is available rooftop lounge and a heliport. But the most amazing part is almost 10 meters deep where you can find 21 suites, a bar, and a diving center. And you\\\\\\\'re definitely going to want to spend much time there as the pressure chamber allow you to go straight from the suites to the open sea without the problem.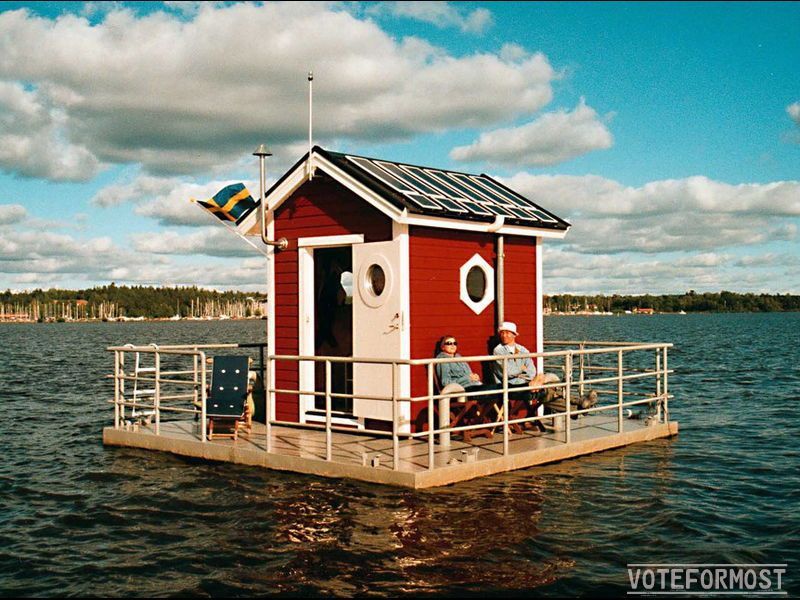 A hotel room located within a lake near Stockholm. This complex is comprised of a small shed and a spring around it to find inside a staircase that leads to the submarine room. In it you will find two small beds and windows surrounding the place everywhere, allowing you to stay in touch with marine life during your stay. 
3
Poseidon Undersea Resorts
Finally, the resort is being planned but not yet built Fiji. Originally intended to open in 2008 and with a waiting list of 150,000 guests, the hotel will be completely Poseidon submarine with only one station to enter the area. Here guests will enjoy dinner at a restaurant with transparent walls and floor plus a library and many other recreational spaces. This, of course, in addition to the suites available for your relaxation and comfort. 
The underwater suites at Atlantis The Palm in Dubai really are fit for the king of the seas. Set alongside a huge aquarium, they are pretty much the most intimate and romantic lodging you could ever dream of...as long as you don\\\\\\\'t have nightmares about sharks! This unusual hotel room costs around £5,500 a night, but if lying in bed while the marine life of the Persian Gulf drifts by your floor-to-ceiling windows appeals to you, the \\\\\\\'Neptune\\\\\\\' or \\\\\\\'Poseidon\\\\\\\' suite might just be worth it. 
5
The Manta Resort, Pemba Island, Zanzibar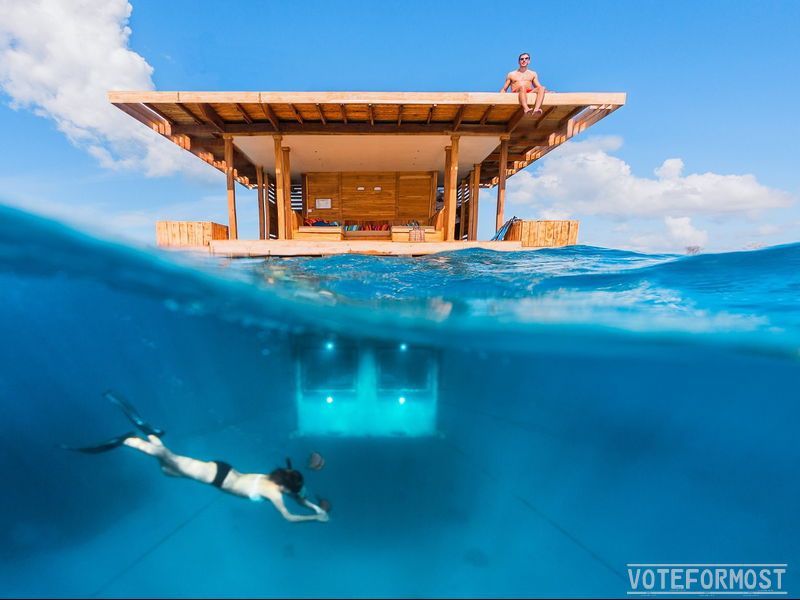 The Underwater Room is the most special of all at the very exclusive Manta Resort in Pemba Island, Zanzibar. Board a wooden boat for the swift two-minute journey to this unique accommodation, lying half in, half out of the crystal clear sea of the Manta house reef. It's like having your own private floating island, complete with the most authentic of sea views from your submerged bedroom. You can still sunbathe - and stargaze - on the deck above and if you want more underwater action, the hotel offers dive trips to sites along the spectacular sites of the Pemba Island coast, so your next swimming companions could be anything from a scorpion fish to a sea turtle. From $1500 a night, all-inclusive. 
6
Conrad Maldives Rangali Island, Maldives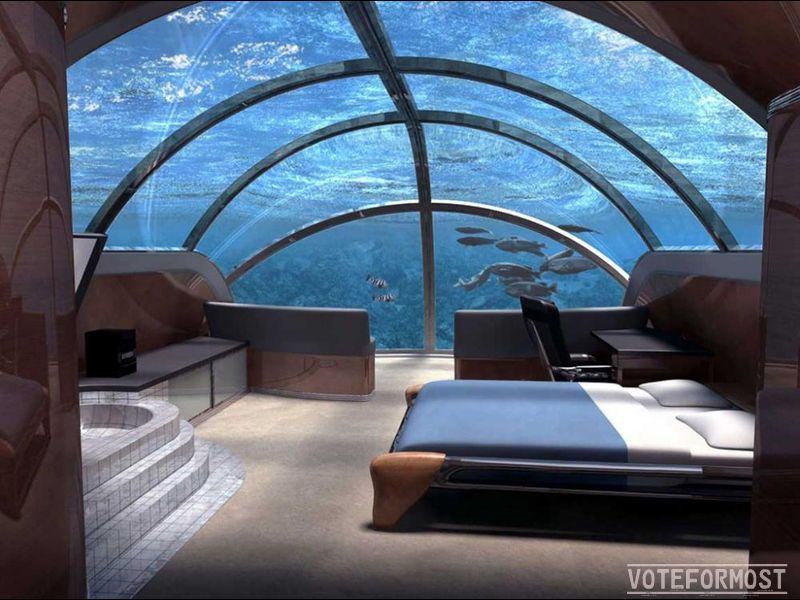 The luxurious Hotel Conrad Maldives Rangali doesn\\\\\\\'t have an underwater room, but you can still have dinner below the waves, without having to don a diving suit. The Ithaa Undersea restaurant is located sixteen feet below sea level and while you feast on the likes of yellowfin tuna with lemongrass and sumac dipping sauce, shoals of fish, sharks and turtles swirl above your head. Set menus cost upwards of $300 per person but you can just opt for a few afternoon cocktails and still catch the sea life on your camera with the sun shining. Book ahead at least a couple of weeks - there are only seven tables. 
7
Subsix at Niyama, Maldives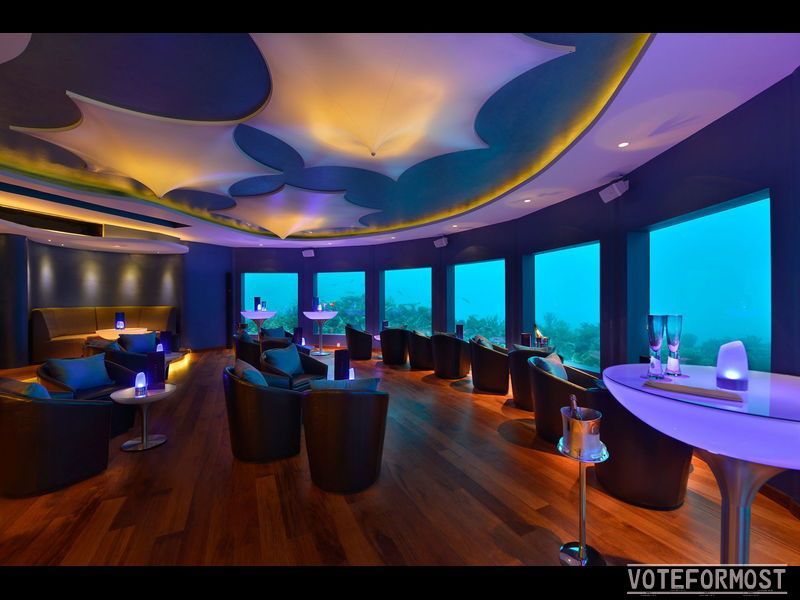 Nothing better than a good party after a good meal. A restaurant by day, gourmet dinner and party venue by night, the Subsix is part of the luxurious Niyama resort. Dance with the parrot fish beneath the waves or chill with a maritime themed cocktail, like the rum-based Dhoni's Sailor, while looking into the depths of the Indian Ocean - from $14 a drink, it\\\\\\\'s a cheaper underwater alternative to the Conrad Maldives\\\\\\\' restaurant. 
8
Jules' Undersea Lodge, Key Largo, Florida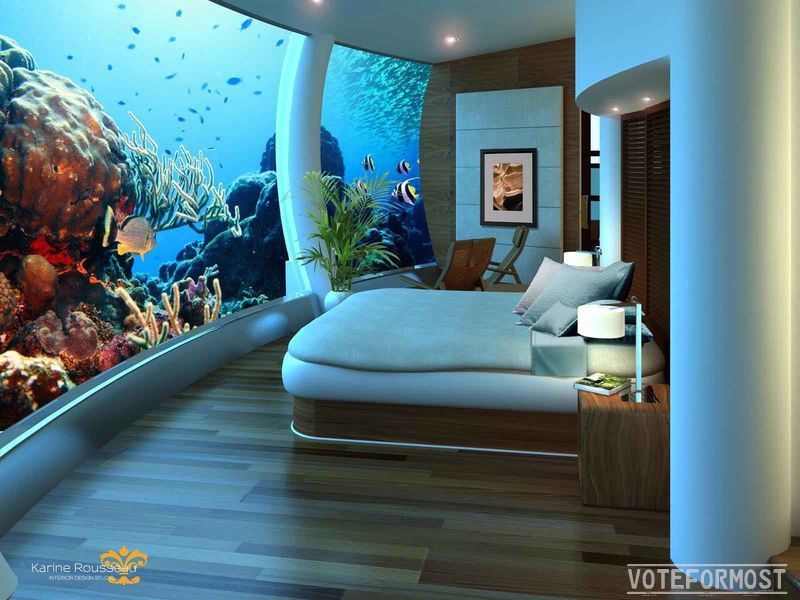 Jules's Undersea Lodge is aptly named after the author of Twenty Thousand Leagues Under the Sea and is the oldest underwater hotel, surrounded by angel fish and other dazzling species off the coast of Florida and near Puerto Rico. Getting there is somewhat of a challenge - it\\\\\\\'s located 21 feet beneath the surface of the sea so you\\\\\\\'ll have to scuba dive down into the foyer. But once inside, what used to be a research lab is now a very cosy accommodation where you can treat yourself to pizza for dinner or book in a \\\\\\\'mer-chef\\\\\\\' who will scuba down to prepare your meal. Intrepid couples can stay the night here for $800 between two. 
9
Lime Spa at Huvafen Fushi, Maldives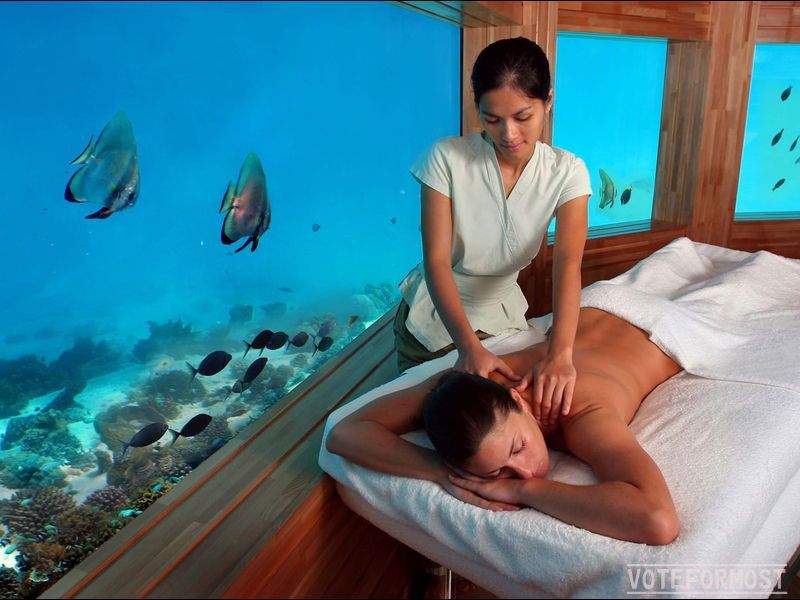 Back to the Maldives, this time with some \\\\\\\'you\\\\\\\' time at The Lime Spa at Huvafen Fushi resort in Male, the world\\\\\\\'s first underwater spa. Enjoy sensual and sensorial treatments whilst gazing out at the rainbow corals of the ocean beyond - and if you can afford the $485 Lime Light Ritual, then splash out on a 150-minute session involving coconut oil massage, steamy lime foot treatment, and ice cube facial instead. 
10
Lovers Deep, St. Lucia and other locations, Caribbean
Lovers Deep is the fanciest submarine you could imagine, giving \\\\\\\'unique luxury hotels\\\\\\\' a whole new twist. Situated on a number of beautiful Caribbean islands, including St. Lucia, couples wanting serious privacy (and a seductive supper of champagne and oysters) can rent a mobile underwater hotel room for a meagre £175,000 a night. You\\\\\\\'ll have a small crew of captain, butler, and chef at your service, who are quartered in their own soundproof rooms at the other end of the sub, and speedboat transfers are included, although you\\\\\\\'ll need to book your flights to the Caribbean separately. 
11
Planet Ocean Underwater Hotel, Florida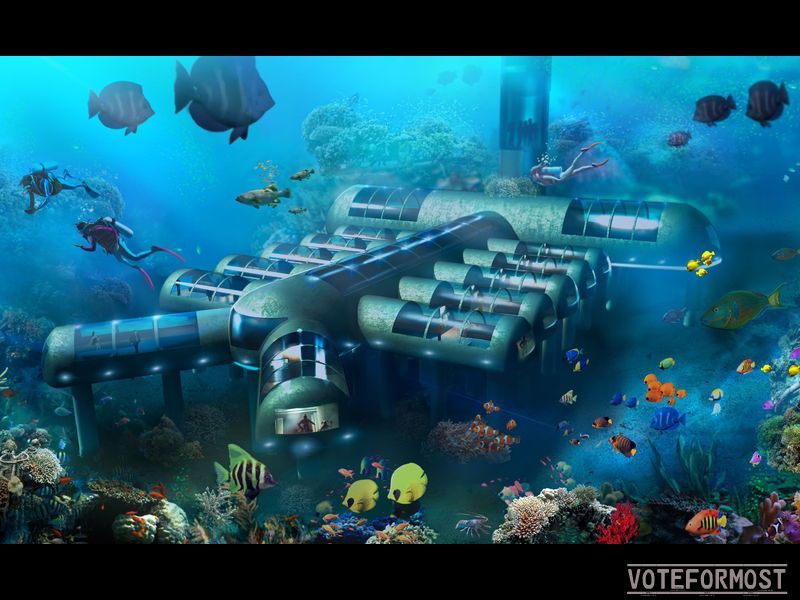 Planet Ocean Underwater Hotel is still in the planning stages, but if it happens, it will be located on private property near Key West in Florida, and will put a big focus on coral reef restoration. The project is aiming to be an \\\\\\\'affordable\\\\\\\' underwater hotel (rates are estimated at $3,000 to $6,000 for two) and includes a lounge, dining area and an underwater elevator set to plunge from the floating catamaran section above the water down to the capsule rooms below.