This list contains top ten most romantic resorts in the world. In our selection of today we have collected ten resorts around the world, which are ideal for a romantic trip with your couple.
Secluded beaches. Cozy cottages. These retreats offer a mix of ambiance and amenities that will surely up the romance factor on your next vacation.
[quads id="5″]
1
Chiva-Som, Hua Hin, Thailand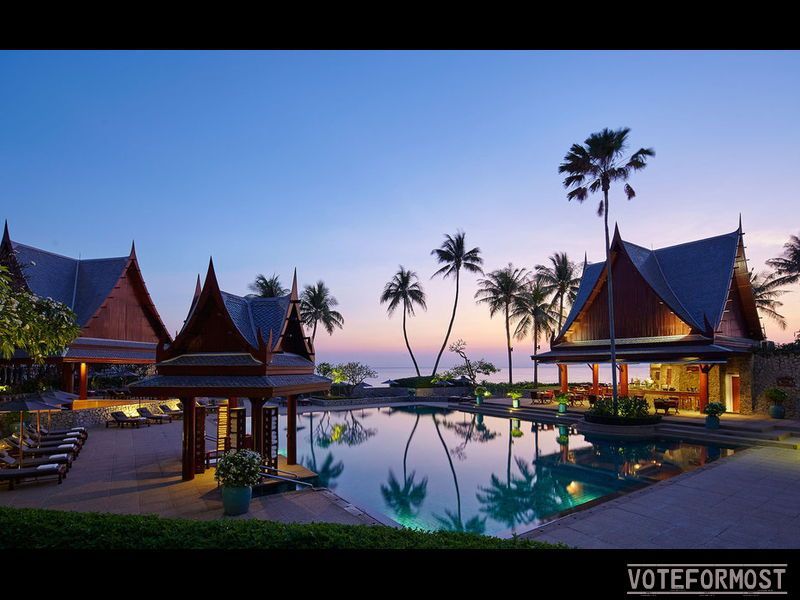 A secluded world of beauty and serenity, Chiva-Som is the "Haven of Life." Nestled within seven acres of lush tropical gardens, our beachfront health resort represents tranquility at its best with luxurious accommodation comprising 58 stylish rooms; Thai Pavilions offer traditional charm and Ocean View rooms and suites provide spectacular views of the Gulf of Thailand.
In addition to 70 treatment rooms, the resort facilities comprise a kinesis studio, gym, watsu pool, flotation pool, large outdoor swimming pool, bathing pavilion with kneipp bath, sauna, steam, jacuzzi, and indoor swimming pool.
Indulge yourself in our award-winning Spa cuisine using organically-grown fruits and vegetables from the Chiva-Som garden, proving that low calorie, nutritious food can truly be a gourmet experience. Enjoy the elegance of fine dining in the Emerald Room or relax outdoors and the Taste of Siam restaurant by the sea.
Chiva-Som is located in the Royal city of Hua Hin on the Gulf of Thailand, 185 kilometres south of Bangkok.  
2
Couples Sans Souci, Ocho Rios, Jamaica
Couples Sans Souci is located in the vibrant town of Ocho Rios in Jamaica. Located on 35 acres of oceanfront property, each of the 150 beautiful suites at Couples Sans Souci enjoys unparalleled privacy and pristine views of the Caribbean Sea.
Couples Sans Souci Resort is a luxury all-Inclusive resort catering to couples only. Luxury accommodations, gourmet dining, all meals, wine with meals, snacks, premium brand drinks, champagne, land and water sports with instruction, spa facilities and entertainment are included. Nestled in stunning Ocho Rios, Sans Souci emerges majestically from the cliffs of Jamaica\\\'s emerald mountains and envelops you into a world where worries disappear and romance prevails.  
3
Pueblo Bonito Pacifica, Cabo San Lucas, Mexico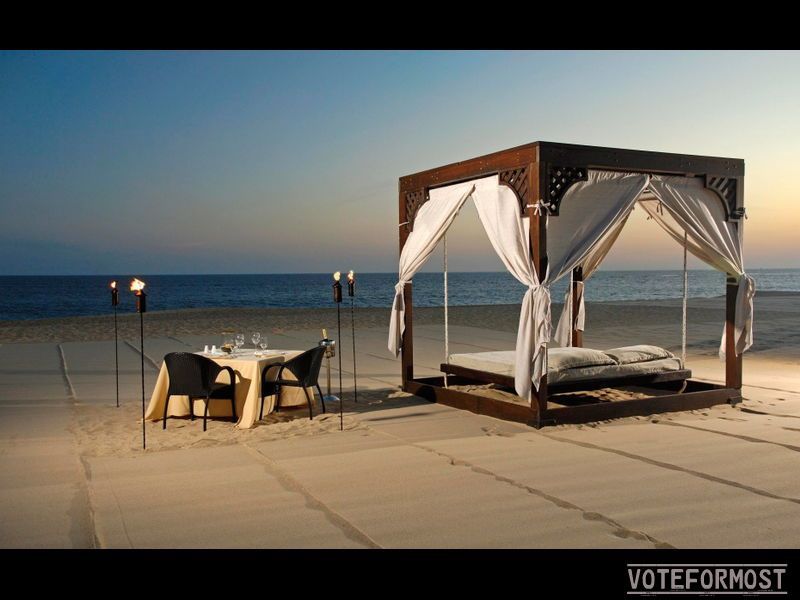 Nestled on a secluded beach in Cabo San Lucas, Pueblo Bonito Pacifica Golf & Spa Resort is widely considered the world\\\'s most romantic resort. This luxury all-inclusive resort caters exclusively to adults seeking a tranquil oceanfront hideaway just steps from the sand.
Modern yet elegant, its design and architecture create a romantic setting for a memorable vacation of relaxation and self-renewal. An award-winning resort and spa destination, this 154-room boutique retreat features five restaurants, a wellness-inspired spa, meeting and event space, and access to a private beach.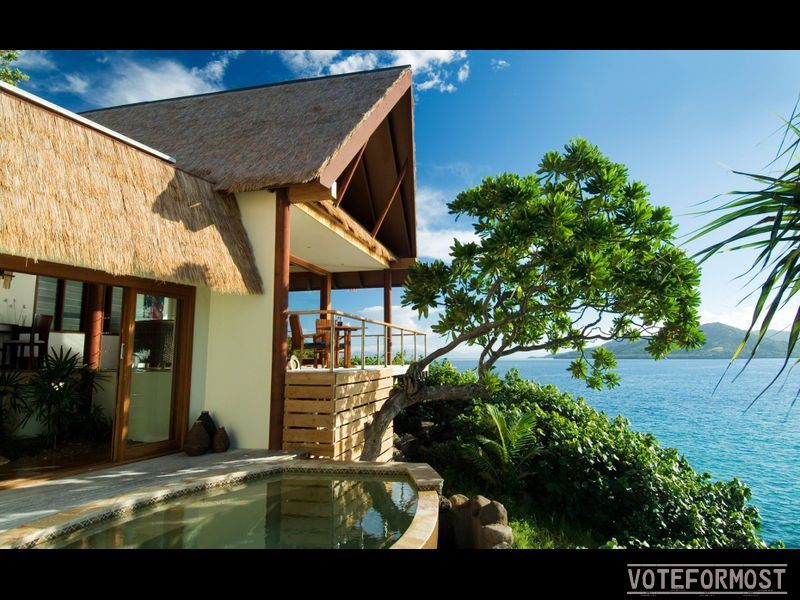 Royal Davui Island Resort is an exclusive adults-only sanctuary situated in Fiji's spectacular Beqa Lagoon offering a level of Fijian luxury, elegance and privacy not found in today's larger resorts.
At Royal Davui Island Resort Fiji, the shell symbolises our invitation for you to come to our island paradise. Just a few guests can be accommodated at Royal Davui, so be prepared for an exclusive and exceptional experience from the moment of your arrival. Here the world-renowned warmth and hospitality of the Fijian people awaits you. Our premier Fiji resort is an adults only escape, offering an ideal tropical island escape, vacation, honeymoon or wedding.  
5
Excellence Punta Cana, Dominican Republic
The lapping ocean waves and the rhythms of merengue are Punta Cana's soundtrack, complementing a laid-back island culture that welcomes you from the moment of arrival. Take a walk on the wild side with cave exploring, world-class snorkeling, zip-lining, whale watching and catamaran rides. Explore wildlife preserves and ecological parks, swim with dolphins and sea lions, or speedboat over to Isla Saona with a stop at a sand bar for a swim in starfish-filled waters.   
6
Spicers Peak Lodge, Queensland, Australia
Stunningly situated on a mountaintop in Queensland's Scenic Rim, Spicers Peak Lodge is as far from the pressure of everyday life as it's possible to be. Let your cares melt away in our elegant suites and private lodges, enjoy an award-winning gourmet experience, unwind in Spa Anise or choose from a host of invigorating outdoor activities. Here, in Australia's highest non-alpine lodge, relaxation and revitalisation come naturally.  
7
Casa Velas, Puerto Vallarta, Mexico
Lush tropical gardens beckon around every corner; regal palms create an oasis around an oversize swimming pool and plush cabanas. Koi fish ponds sparkle in the afternoon sun and lawns are visited by the hotel\\\'s resident peacocks. Here you\\\'ll find an organic garden supplying the freshest herbs for the restaurant, bar and spa, and the manicured greens of the hotel\\\'s onsite 18-hole golf course.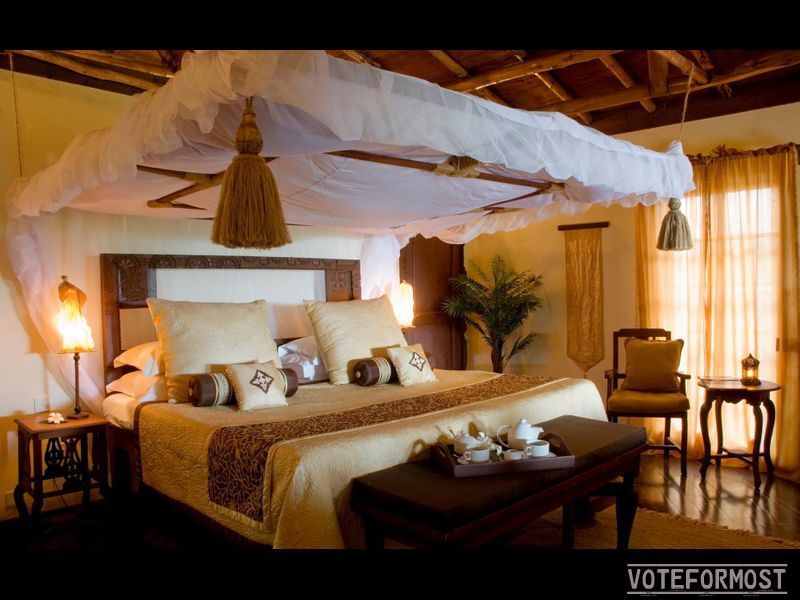 We welcome you to Zanzibar's most exclusive, private resort with just six villas in a personalized and intimate setting…. the perfect, romantic getaway. The Palms is a sanctuary for those in search of tranquility…a place to stimulate the senses and experience the very best of the Island of Zanzibar. The Palms is one of the world's most romantic all-inclusive resorts, says Travel + Leisure.
Zanzibar, the magical Island where the fusion of Arab, African and European cultures has created a pace of life, a style of cuisine and a colorful tapestry of architecture , heritage, myth and magic that is found nowhere else in the world.  
Long considered one of the most remarkable resorts in Hawaii, Travaasa Hana, Maui (formerly known as Hotel Hana Maui) is now even better. In fact, it was voted the \\\"No. 1 Hotel/Resort for a Romantic Getaway\\\" and the \\\"No. 1 Boutique Hotel\\\" in the HAWAI\\\'I Magazine 2016 Readers' Choice Awards, as well as the \\\"No. 3 Resort in Hawaii\\\" in Condé Nast Traveler\\\'s 2015 Reader\\\'s Choice Awards.
Located in the town of Hana on the eastern tip of Maui, Travaasa is the first resort on the island to greet the rising sun. Set amid rolling grass fields and palm trees above Hana Bay, Travaasa will immerse you in the real Hawaii.  
10
Secrets Maroma Beach, Cancun, Mexico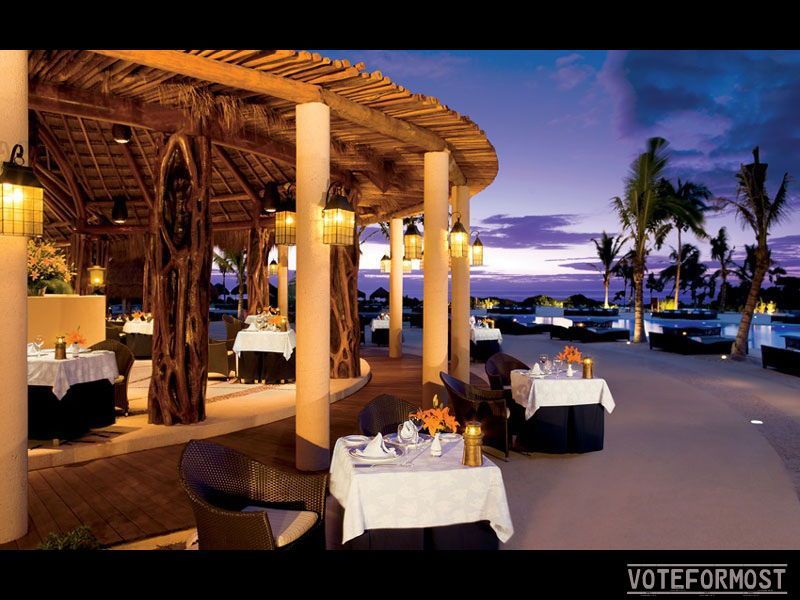 Tucked away on one of the most pristine and famous beaches in all of Mexico, this AAA Five Diamond Resort is the perfect setting for adult adventure, relaxation, romance and Unlimited-Luxury®.